The Hotel du Cap-Eden-Roc in Cap d'Antibes carries a remarkable legacy. Designed by Alexis de Pletscheyeff with the support of the French aristocracy, the hotel first opened in 1870 and went on to host some of the most renowned minds of the 20th century—Ernest Hemingway, Gertrude Stein, Pablo Picasso and Marc Chagall all crossed its threshold, and F Scott Fitzgerald even used it as reference for his work 'Tender is the Night'. The iconic heritage hotel reopens this month after a temporary shutdown due to the COVID-19 pandemic, and will simultaneously inaugurate three newly refurbished dining areas: the Louroc Restaurant, the Eden-Roc Grill and the La Rotonde Bar, all designed by Brazilian architect Patricia Anastassiadis.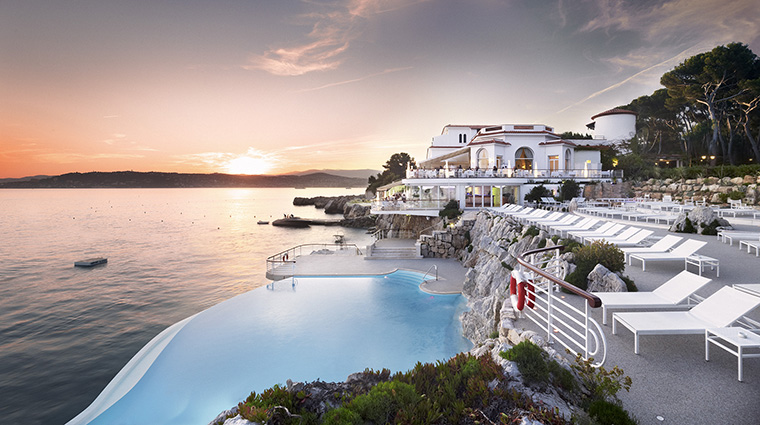 The Framework
Anastassiadis typically begins each of her projects with an exploratory visit to the site. She distinctly recalls her first walk down the alley that connects the hotel to the pavilion by the sea: the tones of the sunset, the textures of the ocean, and even the colours of the leaves all find a place in her design. Anastassiadis also researches the arts and crafts of the region, and makes it a point to include them in her concept. "I like to choose materials that can dialogue with the location and its history," she adds, "That's why even though I have previously used a material, a colour or a texture before, it never feels the same."
Chosen Pieces
Her primary challenge was to honour the hotel's history while infusing it with a more current aesthetic. A large part of striking this balance meant retaining the structural elements of the space, thereby honouring its roots, while washing them over with contemporary furniture and fabrics. In the Louroc Restaurant Anastassiadis has kept the arches and the trompe-l'œil on the walls, features that discreetly weave into the new layout and visual language, and has also retained the podium. Bespoke furniture by Anastassiadis' eponymous design studio, created exclusively for the restaurant, brings the design into the modern day.
Site-Specific
She also pays attention to the natural environment of the hotel, weaving elements that complement its natural surroundings: the Riviera Sofa, the Roc Chair and the Audrey Console are all upholstered in shades of blue and coral that match the restaurant's view of the Mediterranean Sea and the Lerins Islands, and corrugated wood panelling on the walls reflect the waves of the ocean.
An Ode to the Past
Acknowledging that the intellectual legacy of the hotel is as significant as its architecture, Anastassiadis has created a new archaeology—one that is contemporary, but built on layers of the past that are vibrant and vivid in every corner of the property. And in so doing, she has managed to extend the legacy of one of history's most dazzling French Riviera hotels by bringing it into a new century.
Source- AD